Gerald Rickards (1931-2006) Original Preliminary study for decorative panel at Manchester airport.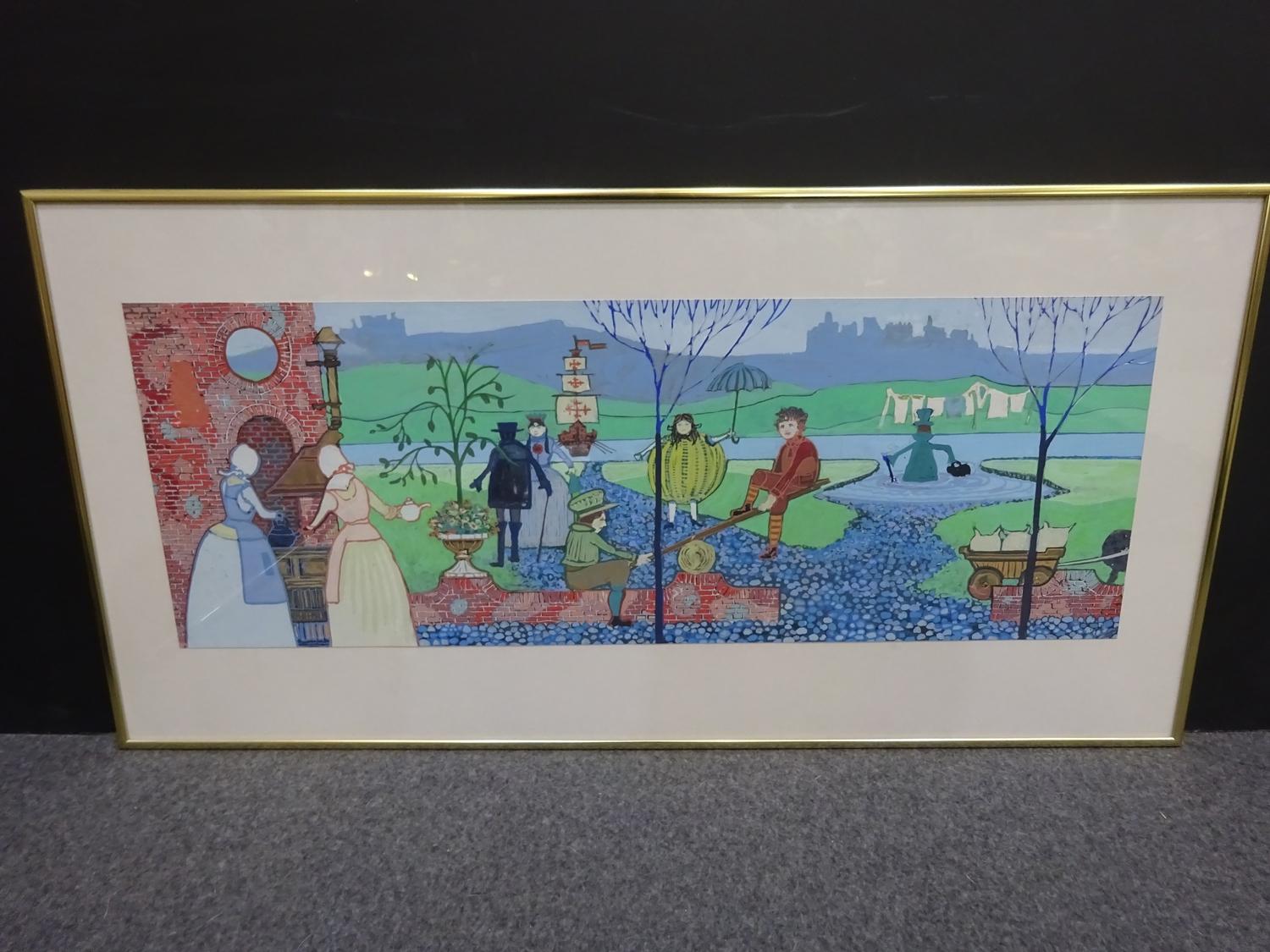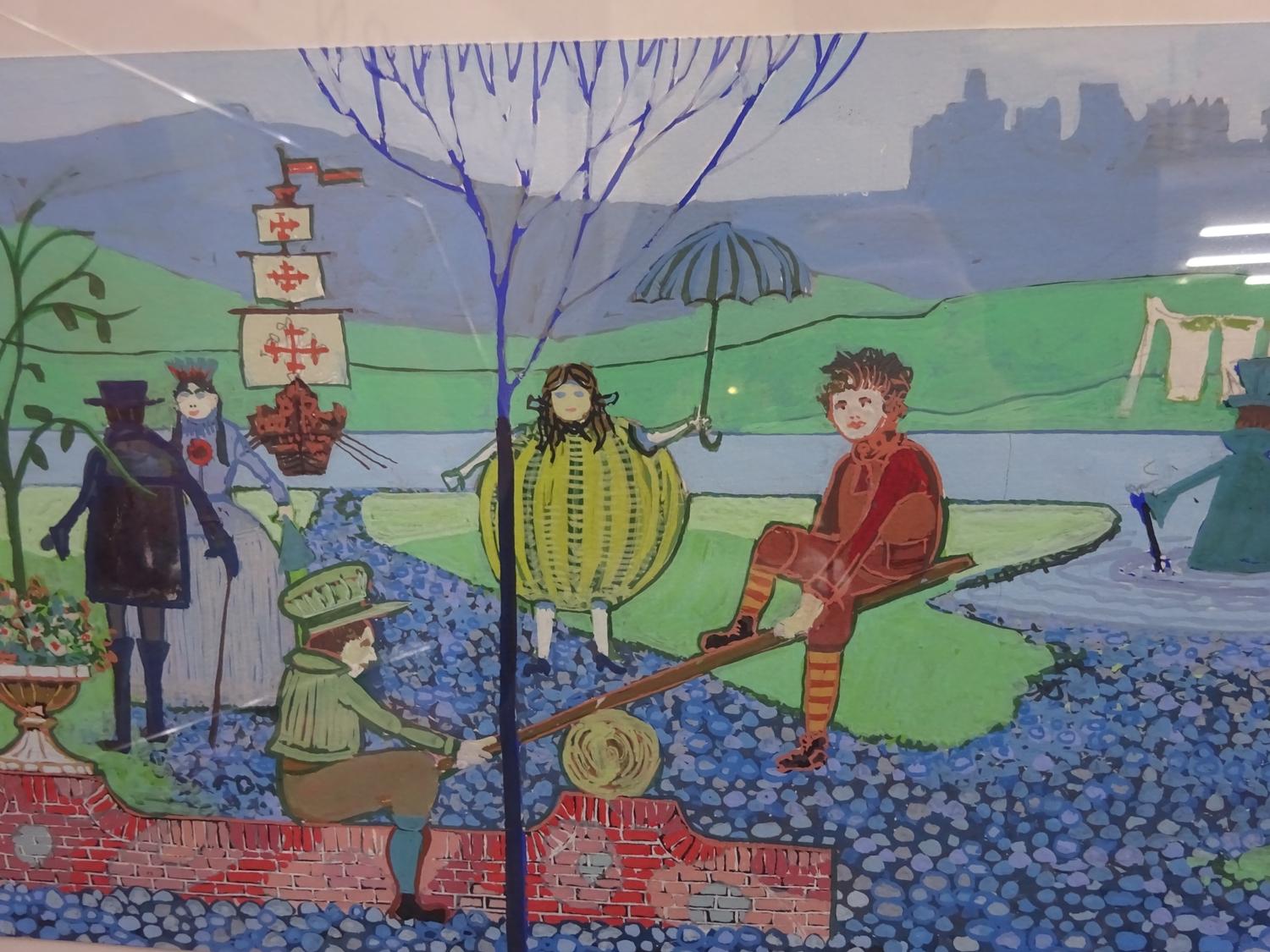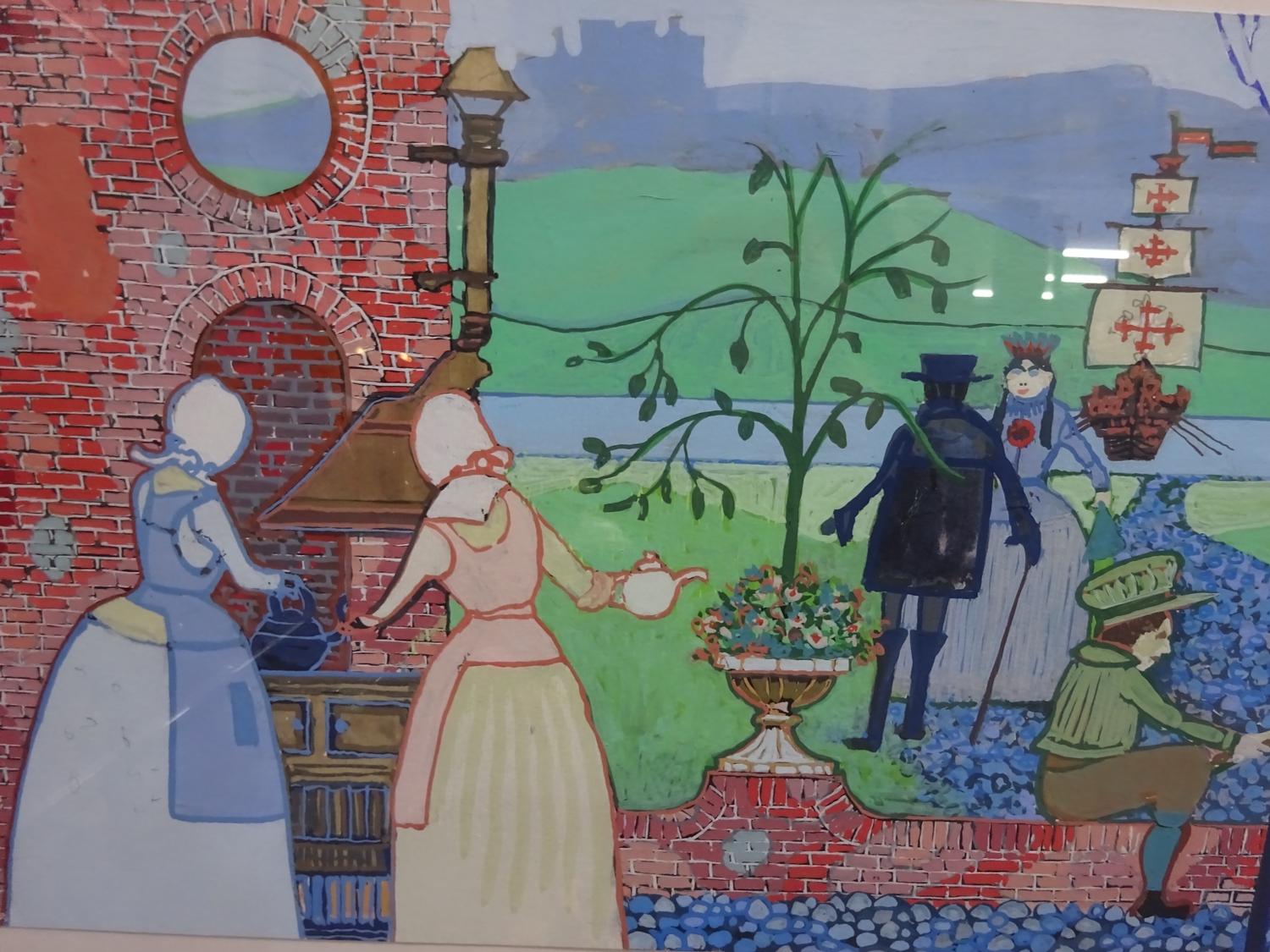 Estimate:
Estimate: £200 - £300
bid online
i
You can also bid online at i-bidder or Bid Spotter. should you wish. Please be aware there is an additional 3.60% inc. VAT charge per lot on all items won.
Manchester airport – playcenter, 1992, 72x36cm. Gerald Rickards (British 20th Century 1931-2006) Gerald Rickards was one of Wigan?s most distinctive and best-loved artists, specialising in depicting buildings in his own distinctive style, from small private houses to large country houses. Meticulous attention to details was an important feature in all his work. Paintings ranged from semi-abstract oils, small watercolour studies, reinforced with line, to larger watercolour/gouache compositions, murals and stained-glass design. Born in Aspull, he lived in Billinge near Winstanley College (previously Up Holland Grammar School) where he was Head of Art for 26 years. He was the first Artist in Residence at Drumcroon Education Art Centre. Following early retirement, he devoted all his time to painting from 1985 until his death in 2006. He was a student at Wigan School of Art and Liverpool College of Art followed by a post graduate fellowship at Edinburgh College of Art where he was the prize winner for the most distinguished work of college year. A travelling scholarship to study mural painting in Europe followed in addition to work on the Diaghilev Exhibition for Edinburgh Festival and the Sunday Observer in London. Early work (1960-1975) featured semi-abstract oils, linear patterns adapted from plans of large buildings and some religious motifs. The latter part of the 1970?s featured subjects which were easier to recognise including mythological creatures and birds depicted in a decorative two- dimensional manner with lots of detail in linear backgrounds. Later works featured parts of buildings, with special attention given to detail, and the relationship between façade and background. The traditional approach to perspective was avoided and subjects were often repeated with variations of colour and arrangement. He held over two dozen exhibitions at galleries in the North West, Midlands, Cambridge, London, Salisbury & Norwich Cathedrals. All had a particular theme ? National Trust properties, churches, cathedrals, waterside buildings, Oxbridge colleges, Thomas Hardy etc. Large scale works include the 37-foot Charter Mural in the History Shop, Wigan and a floor to ceiling panel at Holgate School, Orrell. Other murals included Scottish Scout Headquarters, Manchester Airport, Nantwich Post Office and Warwickshire College (open competition winner in the last two). Also, a ten-section painting for Newnham College at Cambridge, a collection featuring all the buildings in the Close at Salisbury and seven section painting of Rufford Old Hall. He submitted the winning design for the 25-foot square Preston Guild window, designed and painted the 15-foot high Queen?s Hall window in central Wigan, a window at Ince St Mary?s and a 3-setion stained glass project for Christ Church, Aughton. His work was purchased by several educational establishments, local authorities, British Waterways, National Trust, Newnham College, Blackpool Gazette, English Schools Athletics Association and for private collections in many European countries, America and Australasia.
Sale Date
Starts:
Thu 18th Jul 2019
4:00 pm - 6:00 pm
Viewing time
Starts:
Mon 15th Jul 2019
9:00 am - 4:30 pm
Viewing time
Starts:
Tue 16th Jul 2019
9:00 am - 4:30 pm
Viewing time
Starts:
Wed 17th Jul 2019
9:00 am - 4:30 pm
Viewing time
Starts:
Thu 18th Jul 2019
9:00 am - 11:30 am
Collection time
Starts:
Thu 18th Jul 2019
12:00 pm - 4:30 pm
Collection time
Starts:
Sat 20th Jul 2019
9:00 am - 4:30 pm